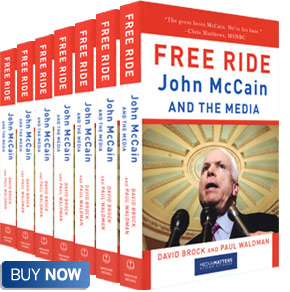 Buy online at Amazon and Powell's Books.
Free Ride: John McCain and the Media
We live in a "gotcha" media culture that revels in exposing the foibles and hypocrisies of our politicians. But one politician manages to escape this treatment, getting the benefit of the doubt and a positive spin for nearly everything he does: John McCain. Even during his temporary decline in popularity in 2007, the media continued to bolster him by lamenting his fate rather than criticizing the flip-flops and politicking that undermined his media-driven image as a "straight talker."
In Free Ride: John McCain and the Media, David Brock and Paul Waldman show how the media have enabled McCain's rise from the Keating Five savings-and-loan scandal to the underdog hero of the 2000 primaries to his roller-coaster run for the 2008 nomination. They illuminate how the press falls for McCain's "straight talk" and how the Arizona senator gets away with inconsistencies and misrepresentations for which the media skewer other politicians.